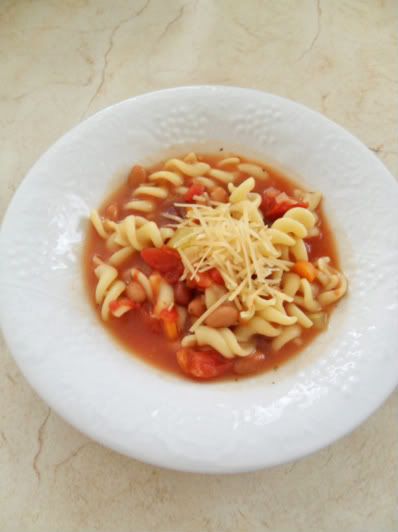 ingredients:
3 carrots
3 celery stalks
1 small onion
olive oil
2-3 cloves garlic
1/2 tsp red pepper flakes (optional)
2 cans diced tomatoes
1-2 cans kidney beans
4 cups chicken stock
1/2 lb cooked pasta
1/3 cup chopped parsley (reserve 1 Tbsp for garnish)
Parmesan cheese, for garnish

directions:
Chop carrots, celery, and onion into a small dice (The smaller you dice, the faster they cook). Saute in large stock pot with a little olive oil over medium high heat until vegetables are soften. Add garlic and red pepper flakes (if you so desire) and saute for another 2 minutes. Stir in tomatoes (don't drain them), beans (drain and rinse these), and chicken stock. Simmer for 10-15 minutes. Add pasta and parsley. Serve. Garnish with a little fresh parsley and Parmesan. Serves 6.

i had no parsley on hand, so that's why there's a lack of green in my picture :)

recipe from here.