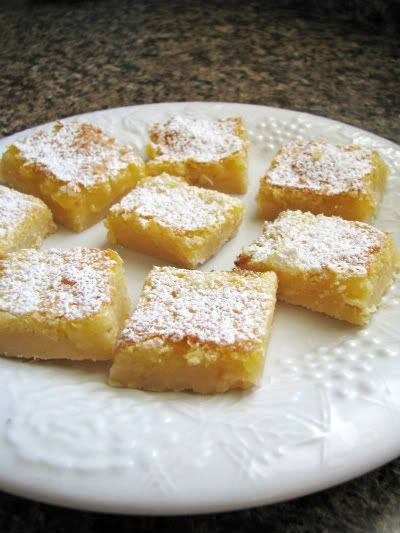 oh, my friends. this is my favorite dessert
of all time
. so much lemony goodness. i hate it when "lemon" desserts are mostly sweet with only a hint of lemon.
this
is a
lemon dessert
. total perfection. anywho, on to the recipe!
ingredients:
1/2 cup powdered sugar
2 cups flour
1 cup butter, refrigerated
4 eggs
2 cups sugar
1 tsp baking powder
1/4 tsp salt
2 tsp grated lemon peel
1/4 cup fresh lemon juice
powdered sugar
directions:
combine 1/2 cup powdered sugar and flour. cut in butter until crumbly, the size of small peas. press into the bottom of a 9x13 pan. bake at 350 degrees for 15 minutes. meanwhile, beat together eggs, sugar, baking powder, salt, lemon peel and juice until fluffy. pour over hot crust. bake additional 20-25 minutes until no imprint remains when touched lightly in the center. let cool slightly. sift powdered sugar over top. cool completely before cutting (4 hours or overnight). serve chilled.
note:
soon after you remove it from the oven, go around the edge with a knife to separate it from the pan. this will make your life easier when you're cutting them later.
and then you can go ahead and die and go to heaven.