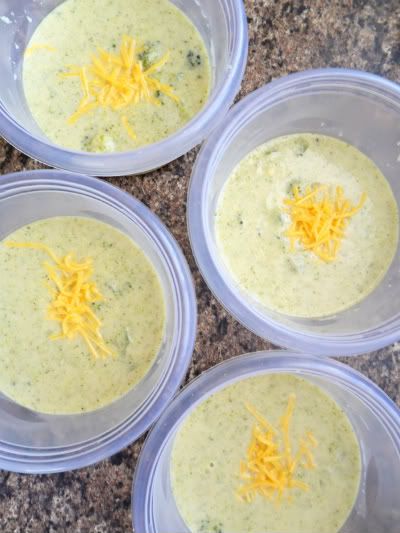 since i don't have a garden of my own, i will be using produce from my mom's garden and my mother-in-law's bountiful basket for the cook challenge! when my MIL gave me some fresh broccoli, i found
this recipe
in the archives and changed a couple of things along the way. {i added another can of broth 'cause i like my soup a little soupier, and some cheddar cheese added the saltiness that i was missing.}
i portioned this out, topped with a little cheese, and sean has some delicious soup waiting in our freezer for him to take to work for lunch :)
ingredients:
2 cups chopped fresh or frozen broccoli
1\2 cup chopped onion
2 stalks celery, chopped
2 cans reduced-sodium chicken broth
2 tablespoons cornstarch
1 can fat-free evaporated milk
1/4 tsp ground black pepper
1 cup shredded cheddar cheese
directions:
in a saucepan, combine broccoli, onion, celery, broth, and pepper; simmer for 10-15 minutes or until vegetables are tender. puree half of the mixture in a blender; return to the saucepan.
in a small bowl, whisk cornstarch and 3 tablespoons of milk until smooth. gradually add remaining milk. stir into the broccoli mixture. bring to a boil; boil and stir for 2 minutes. reduce heat to medium. stir in shredded cheese. continue simmering until soup thickens slightly.
top with shredded cheddar cheese and crackers!