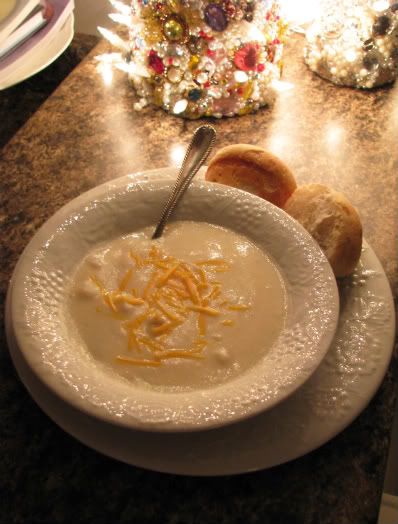 this kept us nice & toasty during the winter storm today! i love that it doesn't require actual potatoes. i don't always have potatoes on hand, but i always have the instant variety :)
ingredients:

2 Tbsp onion, chopped
2 Tbsp butter
3 cups milk
1 can chicken broth
4 servings worth of dry instant mashed potatoes
1 1/2 tsp salt
pepper
directions:
in a saucepan, saute onion in butter over low heat. add milk, chicken broth, salt & pepper, and potato flakes. heat to almost boiling, stirring constantly. remove from heat. garnish with paprika, parsley, or grated cheese. add milk if too thick.
optional:
i added 2 cups of cubed, cooked potatoes. i think next time i'll try adding 4 slices of finely chopped bacon when i cook the onions.